2017-10-30
|
作者:Amy Lin, CSRone / Translated by Jose Salazar, CSRone
BSR Launches Four CSR Dialogues in Asia HERproject Helped over 500,000 Women
The story in a nutshell: Business for Social Responsibility (a.k.a. BSR) is a global nonprofit organization that works with its network of more than 250 member companies and other partners to build a just and sustainable world. To mark its 25 year anniversary, BSR is carrying out a series of events to investigate how business leads in a changing world and other future trends. The series of events included four CSR high-level dialogues in Asia. Among many of the initiatives carried out by BSR, the HERproject stands out as one of the best initiatives for multinational companies to partner up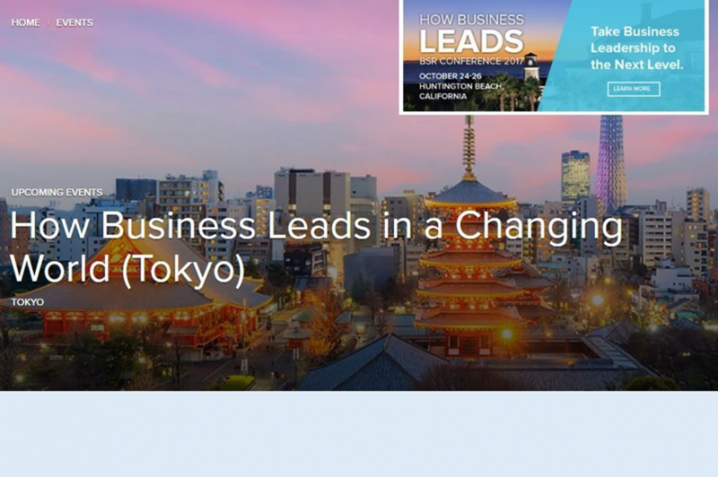 In view of the CSR boom and gaining momentum in Asia, BSR had held four CSR high-level dialogues in four leading Asian cities, to discuss the changes shaping businesses in Asia and other future trends. To address the momentum of profound changes shaping sustainable businesses, BSR will hold its 25th anniversary conference in the end of October with the theme "How Business Leads in a Changing World".
The four CSR high-level dialogues cities and dates were as follows: August 28 Tokyo, August 29 Beijing, August 30 Shanghai, September 1 Hong Kong.
Founded in 1992, BSR is a global non-profit organization that works with its network of more than 250 member companies and other partners to build a just and sustainable world. Since its inception, BSR has been widely recognized by the global business community. Some of BSR members include: Intel, Dell, Samsung, Google, Yahoo, Boeing, Qualcomm, HP, Morgan Stanley, AT&T, GlaxoSmithKline (GSK), Coca-Cola, Time Warner, Nike, and Sony.
BSR's is currently headquartered in San Francisco, CA and has offices in Copenhagen, Guangzhou, Hong Kong, New York, Paris, Shanghai and Tokyo. BSR's main services include sustainability consulting, research, and multidisciplinary cooperation to provide businesses with sustainability strategies and execution plans.
So far, BSR has provided more than eight companies with customized supply chain plant investment strategy, including mining, energy and health care industry. BSR has also developed a set of tools to help businesses move from ad hoc charitable donations to making meaningful strategic investments in businesses and communities. Moreover BSR provides businesses an integration of its valuable experience and know-how.

Source: https://herproject.org/
HERproject, one of the Best Partner for Global Companies
In view of the contributions and influence of women to the improvement of the world, BSR takes the "Empowerment of Women" as a key priority program. BSR's HERproject in particular has become a great target for global companies looking to implement CSR initiatives.
Since its inception in 2007, HERproject has worked in more than 420 workplaces across 14 countries, and has increased the wellbeing, confidence, and economic potential of more than 500,000 women. So far, the HERproject has been implemented in the following countries: China, Pakistan, Egypt, Vietnam, India, Bangladesh, Indonesia, Kenya, Myanmar, Haiti, Cambodia, Mexico, Ethiopia and Brazil.
The HERproject is based on three pillars (HERhealth, HERfinance, and HERrespect) that can meet different regional needs.
HERfinance Helps Women Economically Independent
HERfinance is a financial program launched by BSR, the Walt Disney Company, the GE Foundation and others in 2012, aimed at integrating the efforts from multinational companies, supply chain vendors and local organizations to promote financial plans for women.
This program takes advantage of local cultural workshops to introduce financial concepts to low-income women with the goal of teaching them how to improve their finances and their lives.

Source: https://herproject.org/
For example, in India the peer-educator classes include teaching women the importance of financial planning, budgets, savings, loans as well as financial management basic knowledge and skills. So that low-income Indian women working at global supply chain factories can learn mutually how to make financial plans, open bank accounts, ask for loans, invest small amounts of money and share experiences.
At the same time, HERfinance is working with the Bill & Melinda Gates Foundation to carry out digital cash programs. So that these low-income women can have their own bank account and mitigate the risk of losing or damaging banknotes. As a result of this program, many Indian women have been giving the opportunity to pursue economic independence and gained the respect from their husbands and other family members plus the feeling of self-satisfaction. As well as to make friendships with other working women at the factory and share the joy of their financial growth and life bit by bit.
So far, the HERfinance project has been implemented in India, Bangladesh, Brazil, Indonesia and Mexico. Supply chain manufacturers have already provided this training program to over 10,000 employees and among 77% of participants expressed they have shared what they learned with others.
HERhealth

Take Care Women's Mind and Body
Nowadays there are still tens of millions of people employed by multinational companies across the supply chain that still barely make the equivalent of NTD $60 per day and moreover these people are forced to work in over-crowded spaces with high levels of pollution. They lack the basic knowledge and resources to take care of their own health, as well as lack the access to critical health services and products. In addition for many women, myths and misconceptions, especially stigmas around reproductive health, have led to unhealthy or dangerous behaviors. Evidence suggests that low-income women are more likely to suffer from anemia, sexually transmitted diseases, AIDS, hepatitis B, tuberculosis and other diseases.
HERhealth is divided in two focus areas: capacity building and workplace system strengthening. The first one focuses on raising awareness on critical health topics, improving health-related behaviors, addressing common myths and misconceptions and building confidence and communication skills around discussing important health issues at work and at home. The second one focuses on improving the capacity of the workplace clinic to respond to worker's health needs, linking workplaces with external health services providers and strengthening workplace policies and systems promoting worker well-being.
So far, the HERfinance project has been implemented in Bangladesh, Cambodia, China, Egypt, Ethiopia, Haiti, India, Indonesia, Kenya, Myanmar, Pakistan, and Vietnam.
HERrespect Tackles Violence on Women
HERrespect is aimed at promoting gender equality and tackling the violence against women. Many female workers in global supply chains experience high levels of harassment and violence, both in the workplace and in their personal relationships. This violence, which can be economic, emotional, physical, or sexual, deprives women of their basic human rights and compromises their well-being.
HERrespect approach focuses on capacity building in critical reflections on gender norms, skills building to prevent and address violence, and joint sessions between workers and management. As well as strengthening policies and processes to prevent and address workplace violence, awareness campaigns and monitoring programs and linkages to community services and other local initiatives. HERrespect is currently active in Bangladesh and India.
Case Study

onANN

INC.
ANN INC., the parent company of Ann Taylor and LOFT, is a purpose-driven company that aims to help women "put their best selves forward every day." Women comprise more than 70 percent of ANN INC.'s supply chain labor force, and company leaders recognized the opportunity to help improve the lives of the women manufacturing their products.
After ANN INC. joined BSR's HERproject in 2012, company leaders began to talk with BSR about how to deepen its investment in supply chain women's empowerment and share its approach with sales associates and clients, in order to ensure consistency with the company's strategic commitment to women in North America.
In 2014, BSR assessed ANN INC.'s existing commitments and strengths, including the company's focus on products made ethically and its strong relationships with its suppliers. Simultaneously BSR has successfully assisted other companies to identify the key obstacles that hinder women's potential across the supply chain in three key areas: financial literary, health and well-being and occupational empowerment.
To bring this program to life at the corporate and store levels, BSR recommended ANN INC. to sign on to the United Nations' Women Empowerment Principles and also suggested ANN INC. that the company should expand its current investment in BSR's HERproject initiatives to ensure that women involved in manufacturing ANN INC.'s products would have the opportunity to receive health and financial literacy training.


Source: http://www.anninc.com/
ANN INC. has promised to partner up with its suppliers to use BSR's HERproject and other supply chain programs to improve the well-being of women workers and create business benefits for suppliers. The company aims to ensure that at least 100,000 women are empowered to reach their full potential, and that this project will also strengthen their families and communities.
In the fall of 2014, the Ann Taylor brand introduced a scarf in its holiday lines that was produced by an artisanal cooperative receiving HERhealth training.
For more information please visit:
https://herproject.org/
https://www.bsr.org/
BSR's CSR tools:
https://www.bsr.org/en/our-insights/case-study-view/a-tool-for-companies-to-make-strategic-inclusive-community-investments
BSR and ANN INC. case study view:
https://www.bsr.org/en/our-insights/case-study-view/improving-the-lives-of-100000-women-workers-in-the-supply-chain