2022-08-02
|
作者:Asia Responsible Enterprise Awards News
72 Award Recipients Champions ESG For A Sustainable World At The Asia Responsible Enterprise Awards 2022
The region's leading NGO Enterprise Asia is pleased to confer the Asia Responsible Enterprise Awards (AREA) 2022 to 72 outstanding award recipients for championing ESG to build a resilient world and a sustainable future for all.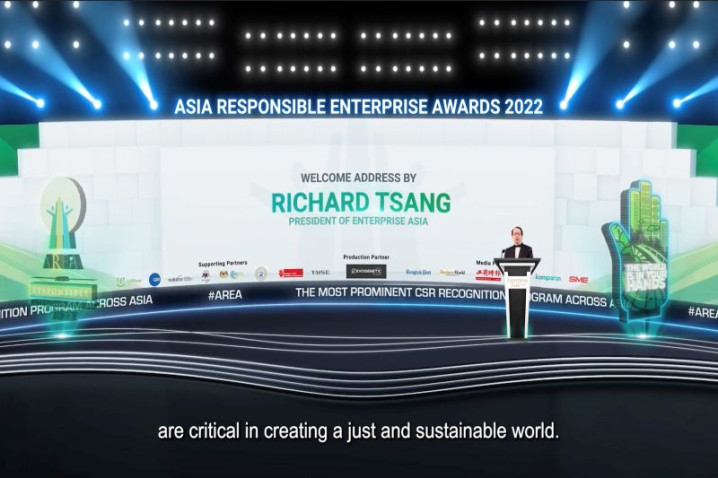 The region's leading NGO Enterprise Asia is pleased to confer the Asia Responsible Enterprise Awards (AREA) 2022 to 72 outstanding award recipients for championing ESG to build a resilient world and a sustainable future for all.
Widely regarded as the gold standard for CSR and sustainability practice, the AREA is the most prominent CSR recognition program across Asia initiated by Enterprise Asia. The AREA aims to recognize and honor Asian businesses and leaders for championing sustainable and socially responsible business practices.
Richard Tsang, president of Enterprise Asia, stated in his welcome speech, "The pandemic has catalyzed our growth as people and as a society, and this is only the beginning of a much greater transformation. Through collaboration and partnership, we can deliver the required investments and actions to accelerate progress in social, environmental, and economic sectors."
According to Dr Eugene Chien, Chairman of the AREA Judging Committee, "I am proud that many of the participants this year have strived to adopt this practice as well as manage the continuance of their CSR initiatives and evolve them into larger ventures. This results in projects that are more sustainable, of greater relevance to the target community, and create a meaningful positive change in society."
Since 2011, the AREA has been recognizing businesses from various industries while honoring their achievements in the categories of Social Empowerment, Investment in People, Health Promotion, Green Leadership, Corporate Governance, Circular Economy Leadership, Responsible Business Leadership, and Corporate Sustainability Reporting. This year, a total of 260 submissions across 19 countries have undergone a stringent judging process which is based on the 3 criterion of effectiveness and reach, relevance, and sustainability, and only 100 impactful CSR programs and 3 business leaders were accorded as winners.
The recipients of the Responsible Business Leadership Category which recognizes leaders who are strong advocates for responsible entrepreneurship and at the forefront of promoting sustainable practices and in promoting the sustainability agenda within their organizations and their communities include Tsai Hong-Tu, Chairman of Cathay Financial Holding Co., Ltd. and Joseph Huang, Chairman of E.SUN Commercial Bank Ltd, from Taiwan, and Dr. Jacques Marcille, Managing Director of Kulara Water Co., Ltd. From Cambodia.
Other notable award recipients are CPC Corporation Taiwan under the Green Leadership category with its program "Take the First Step Towards Carbon Neutrality in the Energy Industry"; Far Eastern New Century Corporation under the Circular Economy Leadership category with its "Green Growth through Circular Economy" program; KWG Living Group Holdings Limited of China, Puncak Niaga Holdings Berhad of Malaysia and AUO Corporation of Taiwan under the Corporate Governance category; Energy Development Corporation of Philippines, Government Housing Bank of Thailand, and SinoPac Holdings under the Corporate Sustainability Reporting category; PT Pupuk Kujang of Indonesia and LEO Global Logistics Public Company Limited of Thailand under the Social Empowerment category.
Prior to the AREA, the International CSR & Sustainability (ICS) Summit 2022 was held in the day. The virtual summit was convened with over 300 C-suite-level executives, business leaders, and CSR practitioners from 19 countries.
Themed "The ZERO Shift", the summit provided a regional platform for leading thought leaders and CSR practitioners to explore the application of the net-zero approach to the entirety of the sustainability equation to achieve zero emissions, zero waste, and zero inequality.
The Chairman of Enterprise Asia, Tan Sri Dr Fong Chan Onn, expressed at the summit's opening that "We must work collectively to adhere to E.S.G. – environmental, social, and governance to build a sustainable world along with rapid economic advancement; and consistent and transparent E.S.G. reporting will help contribute to zero emissions, zero waste, and zero inequality."
The speakers were Kim-See Lim, Regional Director of East Asia & the Pacific of International Finance Corporation (IFC); Dr. Naoki Adachi, Executive Director of Japan Business Initiative for Biodiversity, and CEO & Founder of Response Ability Inc.; Dr. Niven Huang, ASPAC ESG Leader of KPMG Taiwan; Olivier Trecco, Head of ASEAN, Japan, Australia of ESG Solutions Sustainable1; Monica Bae, Regional Lead - Capital Markets APAC of CDP; Daniele Mae C Coronacion, Climate Change and Sustainability Services Manager of Ernst & Young Global Delivery Services; Dr. Allinnettes Adigue, Head of the ASEAN Regional Hub of Global Reporting Initiative; Kevin Milla, Consultant, Carbon Specialist of Paia Consulting; Alexandra Tracy, Founder and President of Hoi Ping Ventures; Ali Mohamed Ali, Founder of OxEarth and CEO of Destination EMEA of Independent Consultant, United Nations Global Compact; Duncan Lee, Director of Investment Environmental, Social & Governance, Group Investment of AIA Group; Lt. General Sudhir Sharma, Advisor to Enterprise Asia; Ben Kellard, Director of Business Strategy of Cambridge Institute for Sustainability Leadership; Ivy Kuo, Partner and PwC Asia Pacific ESG Leader of PwC China ESG Services; Anirban Ghosh, Chief Sustainability Officer, Mahindra Group; Dr. Mushtaq Memon, Regional Coordinator, United Nations Environment Programme. The AREA and ICS 2022 are supported by CSRone, the Global Reporting Initiative, India CSR Network, Malaysian Business Council of Cambodia (MBCC), Malaysia Green Technology and Climate Change Corporation (MGTC), National Institute of Entrepreneurship and Innovation (NIEI), Singapore-Thai Chamber of Commerce, and Taiwan Institute for Sustainable Energy (TAISE), with Bangkok Post, BusinessWorld, Commercial Times, Hong Kong Economic Times, Kumparan, and SME Magazine as media partners and Evogenetic Studio as the Official Production Partner.
Source: Asia Responsible Enterprise Awards
Picture credit to: Asia Responsible Enterprise Awards