活動時間:
2022-03-25
~
2022-03-25
8th International Conference on Sustainability Trends 2022
Join this session to hear from senior leaders of the major ESG reporting frameworks and standards about the current state and future ESG reporting and its harmonization globally, how to navigate and implement effectively their frameworks and standards, and what can companies and investors expect for the years ahead.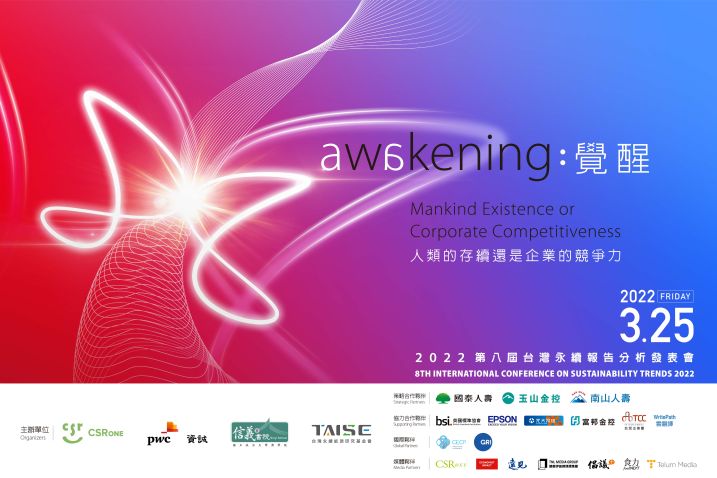 8th International Conference
on Sustainability Trends 2022
For Chinese version please click here.
People are well aware of the severe challenges of climate change and biodiversity loss, hence ESG has also becomes a business imperative, but most of the corporates only focus their attention on policy, regulations and market's game rules. At COP26, scientists warned humanity that it is still possible to stabilize global warming within 1.5゚C, but true coordinated global collaboration and good faith are urgently needed.
The event theme serves as call to action for awakening corporates to the true realities they need to face, comprising of coordinated and consistent initiatives and sincere collaboration, so that the man-made ecological deterioration can be stabilized, and the economic and social development can continue to run smoothly. Now what we expect pertinently is that leaders will be actively invested in driving transitions within their organizations, set concrete commitments for Net Zero as well as spur continuous innovation for sustainability.
Date and time:
2022/3/25 (Friday) 9:00-17:15 (UTC+8)
Organizer: CSRone, PwC Taiwan, Sinyi School, NCCU College of Commerce, Taiwan Institute for Sustainable Energy (TAISE)
Tentative agenda
Trends of Sustainability Reporting in Taiwan and APAC 2022


CSRone's intelligence unit regularly publishes its "Trends of sustainability reporting in Taiwan APAC", next year it will be the report's 10th edition. This report has become a leading source of reference for stakeholders to understand the state of sustainability from APAC corporations.



Corporate Governance for Sustainability - Board & C-Suite


The G of governance in ESG is a paramount component of international reporting frameworks. This session will focus on the role of a governing body when integrating sustainability considerations into business management and how it aligns the business experience with international trends to provide new thoughts. The session also stresses Corporate Governance in view of the Challenge of Climate Change and the possible practices in APAC.



Corporate Roadmap to Net-Zero


In order to achieve Net-Zero reductions corporates must examine the key impacts along its value chain and identify the hotspots. This session will focus on how developments such as the IPCC AR6 findings to the aftermath of the COP-26 and the gradual adoption of pledges into policy are forcing corporates to reassess the implications of this transition on their operational- and product-related strategy.



Corporate Innovation for Sustainability


In the face of rapidly evolving market changes, innovation has become the only solution for a corporation's survival. This session will focus on Innovation, whether it is internal or external, as a key driver to enable corporate sustainability.
Note: The organizers reserve the right to modify, change and cancel this event without prior notice. Any changes will be announced on the event site.